How a Patio Addition Can Improve Your Home and Yard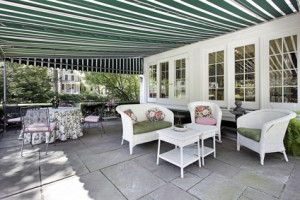 As the warmer parts of the year move in, your yard and landscape are becoming a much bigger part of your home and your life. During the summer months, hosting friends and family for a small barbecue or having large gatherings and parties at your house are great ways to spend your time, and chances are, you'll want to take advantage of your yard and landscape during that time. It's great to get outside, and a patio addition will allow you take full advantage of everything your yard has to offer.
At S.G. Construction, our Bennington construction professionals can provide you with a high quality patio addition. We'll make sure that your patio is perfect your home and your family, and we'll always guarantee your complete satisfaction with our work. If you're considering adding a patio to your home, take a look at some of these great ideas and benefits:
What Makes a Patio Special?
Patios offer quite a few benefits to your Bennington home. They're a perfect place to relax and unwind after a long day, to sit outside with a cold drink on a hot day—or a hot drink on a cold night. They can even be a great place to have a summer meal with your family. They're also the perfect to place to entertain any number of guests. Patios are extremely versatile and can improve your home and your landscape without taking either over.
Patios will also raise the resale value of your home. If you ever decide to sell your home, patios will give you a great return-on-investment.
Great Ideas for Your New Patio
The versatility of patios goes beyond their usage—you'll also have countless options for the design. Our Bennington construction professionals will work with you to design your patio and ensure that it's perfect for your home. The only limit is your imagination.
Our professionals can build your patio from concrete, brick, stone, or any other material that suits your home and landscape. We can also add fountains, a pergola, a pathway to your pool, and many other design elements to enhance your patio.
One of the most popular elements to add to a patio is a fire pit. The fire pit can be built directly into the patio, and our professionals can take care of all the design and construction. Fire pits can make your patio more comfortable and inviting, and they'll be the perfect place to host friends and family during the fall.
If you're looking for patio additions in Bennington, call S.G. Construction at 603-582-0130, or fill out our online request form.