Top 3 Modern Kitchen Countertops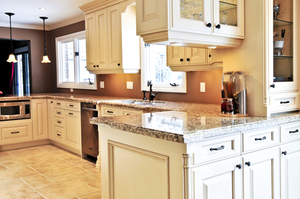 Since 2017 brings in a new year of trending colors and materials, you'll want to know what kitchen countertops are in style for modern kitchen remodeling. Earthy colors and earth-friendly materials are currently in style.
Green materials are highly desirable for those who are remodeling or building new homes. There are many beautiful earthy friendly materials, several of which make great countertops.
Kitchen remodeling is a fun process, but it can be daunting to make all the decisions necessary for a great new design. Our New Hampshire remodeling contractor will regularly help homeowners with their kitchen designs. The best tip we can give you is to create a space that you'll love. If you don't love what's in style or is suggested by someone else, you can always do your own thing.
Kitchens are personal. You and any family members work in them everyday, so choose materials and colors you will love. With the help of a professional kitchen designer, your tastes can be seamlessly merged into a modern design style that is uniquely your own.
Here are three top kitchen countertops which are being installed in modern kitchens today.
Quartz Countertops
Quartz is one of the hardest materials on earth. It is a natural mineral that is formed deep within the earth. However, quartz countertops are man-made. They are made by combining 90% ground quartz with 8-10% resins, polymers, and pigments. This composition hardens to a very hard granite-like material.
The quartz countertops are shimmery because of the natural quartz. The surface resists stains and scratches and doesn't harbor bacteria, which is perfect for the kitchen. It's easy to clean with some water and a little soap.
Eco-Friendly Composite Countertops
Composite countertops are made of materials such as fly ash or recycled paper. The countertop material does not release harmful VOCs including radon gas. Composite countertops are food safe and inhibit bacteria growth. The surface resists stains, heat, and scratches but it does need sealing and special maintenance at times.
Bamboo Countertops
Talk about earthy and eco-friendly, bamboo is a wonderful material for countertops. Bamboo is an extremely fast-growing grass reed. It is easily farmed and harvested. It makes beautiful countertops, vanities, kitchen islands, flooring, cabinetry, furniture and more. It's an extremely dense hardwood.
Bamboo is a much better material than standard butcher block. However, just like any type of butcher block countertop, it will require some maintenance and cannot be treated as roughly as quartz countertops. In countertop form, the bamboo is engineered. The countertop will need to be resealed with a food safe sealant after time.
If you would like to learn more about Kitchen Countertops or are looking for a New Hampshire kitchen remodeling contractor, please call S.G. Construction at 603-582-0130 or complete our online request form.