Kitchen Remodeling on a Budget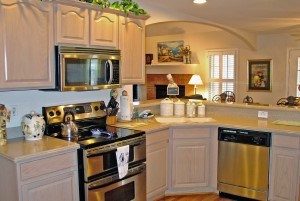 If you've been thinking about a kitchen remodel you probably know how expensive it can be for professional kitchen remodeling services. There is a lot involved with an extensive project; there are more contractors on the job, more variables, and many other challenges to be dealt with which means higher job costs. You need to decide what you really want and need from your kitchen.
If you don't like the layout of your kitchen, if it is too small or not functional for your style, then you need some fairly extensive kitchen remodeling. However, if you like the general layout, that's great because you have a lot to work with already. If your kitchen is functional but just outdated and used, you can get a full makeover for a fraction of the cost of a full kitchen remodeling project.
The average size and detailed kitchen can usually be transformed into the kitchen you love for $8,000-$10,000. Now that includes a full cabinet refinish and reface with new doors and drawer fronts including handles, hinges, and drawer slides, new countertops, new sink, all new appliances, painted and completely finished. From here you can work with your budget and determine if you can afford other non-essential improvements such as updated lighting, additional cabinetry, or new flooring.This approach allows you to work within a budget instead of thinking you need to completely redesign your kitchen. You choose what you want to do
It's really amazing how a simple makeover can transform your kitchen into something you've always dreamt of. From the new efficient appliances to the bright, flawless finish of your fresh cabinets, you will have a new kitchen that you and your family will enjoy for many years.
You should get an estimate for your kitchen remodeling project now! Call S.G. Construction at 603-582-0130 today for a free consultation and estimate. Also visit our kitchen remodeling online request form and you will be contacted by S.G. Construction. Act today to start your kitchen remodeling project tomorrow!
If you are looking for a New Hampshire kitchen remodeling contractor then please call 603-582-0130 or complete our online request form.