What You Need To Know About Concord Custom Decks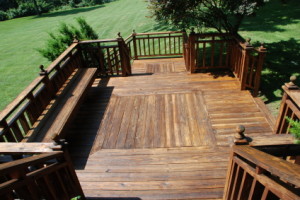 Custom decks are great features to add to the exterior of your home. Not only will they provide your family with a great place to enjoy the outdoor life, but they will also improve the appearance of your house and increase your overall market value.
When choosing your Concord custom deck builder, make sure that your company knows that they are using the best type of wood with the finest quality. It is important that your contractor have the proper experience in building custom decks.
Advantages of Building Decks
A deck is considered any type of wooden platform that is constructed above the surface of the ground. Custom decks are built in such a way that they are connected to the main structure of your home. Generally, they are accessed from sliding glass doors or stairs leading to the yard.  Here are some good reasons to install a new custom deck on your Concord home.
Decks can be useful in transforming grounds that are rough or yard that have large slopes into more useful areas.
Custom decks are convenient and functional decorative additions to add to your home. They can help break up the monotony feel of your existing landscape design.
Construction of custom decks built by professional construction workers will last for several years. They can even treat the wood to help delay chances of deterioration.
A custom deck in the upper floors of a large structure can be an attractive feature for your home. It can also be used as a viewing or observation deck.
Popular Types of Custom Decks
Since there are several companies and service provides that claim to create customized decks, but they don't follow through, it is important for homeowners to know what designs are fresh and unique. There are many new design plans for custom decks including:
Wooden decks that are built with pressure treated wood that will last for a longer time period. This material can be more costly but it will save you money in the future by allowing you to avoid staining and painting every few months.
Composite decks are also a great way to provide your family with a deck that beautiful and durable. These decks are also known for being almost maintenance free.
Dryspace is another type of customer deck that comes with built-in drainage system beneath the deck to prevent water from accumulating on your deck.
If you are looking for a Concord Custom Deck Construction then please call 603-582-0130 or complete our online request form.