Bathroom Remodeling Color Choice Nightmares? – Never Fear, S.G. Construction is Here!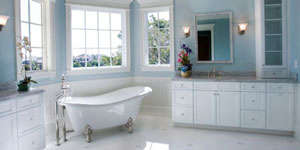 If you have been living in a house that has a small bathroom or one that doesn't have sufficient function for your needs, you've probably been thinking about either moving into a bigger home or working with your current home and making it better.
Bathroom remodeling is something that many homeowners will choose to do rather than moving, and it does make sense because you can add value to your home while making it into a better place for your family.
People tend to not want to remodel because it can be a frustrating process if you're not sure what to do. There's a lot involved in the process, from planning color choices, choosing fixtures, choosing lighting, flooring, cabinetry, and more.
Color choice is one of the main decisions you will need to make, and it is one of the processes people are most afraid of getting wrong. Your local New Hampshire Remodeling Contractors are always just a phone call away when you need help with your project.
Color Choices in Bathroom Remodeling
The most common mistake people make when remodeling is to choose too many colors for their new bathroom remodeling project. The more colors you pick, the greater risk involved in the result being way off from what you had hoped.
Using too much or not enough color or the wrong combinations of color when remodeling your bathroom can make you regret your choices once the color gets on the walls.
Planning the color scheme in a bathroom remodel is something that a lot of homeowners fear having to do. Many people have never had to deal with color and don't know the basic techniques that designers often use.
Most of us go about our day making choices that others have made for us. For instance, how many times have you heard that in fashion, brown doesn't go with blue…that it's not "in"? Well, that's simply not true. Brown and blue go great together if the right tones and hues are chosen.
Brown can be boring. Let's face it, brown can be really bland. However, added to a contemporary blue, it rises to the occasion and becomes rich chocolate and with those two colors as a base, a third choice will be easy. This color is normally used to represent a more masculine point of view, however even that can be changed with the proper design to where the space represents both sexes.
Who will use the space and for what purpose is all taken into consideration when choosing color. Picking the right color scheme can be really scary and really crazy if you have to go through several tries to get the right result. The best advice anyone can give is to try to stick to two colors, three at the most.
Most importantly, how do you want to feel when you're using your space? Do you want your bath area to feel rich and luxurious with plenty of space for dressing as well? Or do you want a minimalist look that matches the rest of your home's design?
You'll want to ensure that your color choices leave you feeling relaxed and comfortable when enjoying your new bathroom. This means envisioning yourself using the space after the remodeling job. What colors do you see when you're enjoying your space? Most likely they are of the calming and soothing pallet combination, but often many go with bold looks that also warm up the space.
No matter your color choices are, remember that you have professional and experienced bathroom remodeling friends you can call on at S.G. Construction, LLC, who will give you expert advice and help you plan your bathroom remodel. Just check out our information and give us a call.
If you are looking for a New Hampshire remodeling contractor then please call 603-582-0130 or complete our online request form.