10 Ways to "Go Green" with Your Bathroom Remodeling Project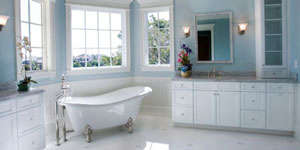 More and more homeowners are finding value in creating environmentally friendly living spaces when remodeling parts of their homes. Having an environmentally friendly home isn't only good for the environment, but it's safer and healthier for you and your family as well. Plus, conserving energy and resources will help you save on energy costs.
"Going Green" isn't as difficult as you may imagine. Simply conserving water, electricity, and the energy you use to heat and cool the room can help you create a more environmentally friendly New Hampshire home. The professionals at S.G. Construction have put together a few of the things you can do to help make your bathroom remodeling more "green":
1. Use Non-Toxic Building Materials
Using non-toxic building materials is a great way to make sure your new bathroom is not harming the environment around your home. Plus, the space will be safer and healthier for you and your family.
2. Use Soybean or Cotton Based Insulation
Insulation derived from soybean or cotton is non-toxic, so it's safer to install in your New Hampshire home. It's also friendlier to the environment and won't be harmful to you or your family.
3. Use Hardwoods Certified by the Forest Stewardship Council
The FSC (Forest Stewardship Council) was started as an initiative against deforestation. All FSC certified woods are rapidly renewable, so they don't contribute to deforestation.
4. Build with Cork and Bamboo
Any features in your bathroom remodel that will be built from can be built with cork and bamboo. These woods are rapidly renewable—meaning they'll grow much more quickly than other woods—so you won't be killing trees or wasting resources.
They're also attractive and durable, so they'll be a great addition to your New Hampshire home.
5. Find Products with No or Low VOCs
VOCs, or volatile organic compounds, are compounds with very low boiling points. They can evaporate and enter the air at room temperature. For instance, formaldehyde commonly evaporates from paint.
Using paints and sealants that are VOC free (or at least labeled Low-VOC) will be safer for the environment and help you create a healthier New Hampshire home.
6. Install Low-Flow Shower-heads and Faucets
These types of faucets can help you conserve half of the water that is usually used in bathrooms. You should also make sure aerators are installed on all faucets to reduce water waste.
7. Use Low-Flow or Dual-Flush Toilets
An average toilet will use around six liters of water per flush. Low-flow toilets cut that number in half. Dual-flush toilets will give you the option of lighter flushes or more thorough ones.
8. Install Energy Efficient Light Fixtures
Lighting is responsible for about 14% of all energy used in a home. That means that cutting back on lighting anywhere you can help you save a significant amount on your electricity costs. Using more energy efficient lighting fixtures in your bathroom remodel will go a long way toward helping you conserve energy in your New Hampshire home.
Compact fluorescent bulbs use only a fraction of the energy of traditional bulbs, and they won't need to be replaced as often.
9. Natural Light
Consider adding in a window or skylight during your bathroom remodeling project if you have the resources available. It can be very attractive, plus, natural light is 100% cheaper than electric light!
Windows can also be used for ventilation.
10. Tankless Water Heaters
Tankless water heaters are much more energy efficient than regular water. They're much more convenient, too, and won't waste water.
If you're in need of a bathroom remodeling project for your New Hampshire home, call SG Remodeling today at 603-582-0130 or fill out our online form!