New Hampshire Kitchen Remodeling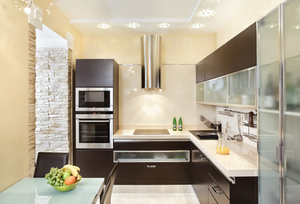 When it comes to homes in New Hampshire, the kitchen is often a central point, not just because of how much space it takes up in the home. Kitchens are fairly active areas where family and friends gather to eat, cook, socialize, or just relax with a cup of coffee daily. As such, a kitchen that is outdated and does not suit the needs of those using it can not only bring down the value of the house, but the quality of life for those living in the home as well. This is just part of the reason why New Hampshire kitchen remodeling is such a popular service provided by S.G. Construction.
At S.G. Construction our New Hampshire kitchen remodeling contractors can help you create a new kitchen design that is a welcoming reflection of your lifestyle. Whether cooking seems like a chore because all of the appliances are outdated or the layout doesn't flow in a manner that facilitates ease of preparation and cooking, or your kitchen is just "old" and in need of a face lift that will bring it into a more modern style, S.G. Construction, serving as your New Hampshire remodeling contractor, can help you improve the quality and enjoyment you get from using your kitchen with our expertise in kitchen renovation.
Revitalize Your New Hampshire Kitchen With Great Design
At S.G. Construction our professional New Hampshire remodeling contractors can rejuvenate your kitchen with our expert techniques, dedication to quality craftsmanship, and years of experience remodeling kitchens throughout the state. Whether you are interested in a complete kitchen design change or small kitchen renovation updates, our professional New Hampshire remodeling contractors can help you turn your kitchen remodeling ideas into a reality. S.G. Construction provides unmatched attention to detail, quality and custom remodeling services. For an enjoyable home remodeling experience, be sure to contact our kitchen designers and remodeling contractors today to discuss the possibilities of your New Hampshire kitchen remodeling project! We'd love to hear from you.
Planning A Kitchen Remodeling Project
The challenge of designing and remodeling a kitchen is identifying what each New Hampshire home wants in terms of functionality, placing appliances and spaces where they can be intuitively found, and keeping the space neat and attractive. All of these things can be achieved with the help of S.G. Construction. We take pride in our ability to provide personalized New Hampshire kitchen renovation services with honest and fair pricing to satisfy our clients no matter what the size or budget for their project may be. We know our clients expect open communication, attention to detail, a construction team committed to providing a safe, clean and organized work site and completion of their project as specified, on target and on time. We can work with the design of your current kitchen or provide a new design for your kitchen remodel and the construction that goes with it. Whether it's a show stopping bar, island sinks, upgraded faucet, new appliances, kitchen cabinets and more, S.G. Construction is your trusted New Hampshire remodeling contractor. Whether your project is small or large in scope, we're happy to assist you with improving your home in New Hampshire!
Recent Articles about Kitchen Remodeling in New Hampshire
Kitchen Remodeling on a Budget

If you've been thinking about a kitchen remodel you probably know how expensive it can be for professional kitchen remodeling services. There is a lot involved with an extensive project; there are more contractors on the job, more variables, and many other challenges to be dealt with which means higher job costs. You need to...

Read More
Top 3 Modern Kitchen Countertops

Since 2017 brings in a new year of trending colors and materials, you'll want to know what kitchen countertops are in style for modern kitchen remodeling. Earthy colors and earth-friendly materials are currently in style. Green materials are highly desirable for those who are remodeling or building new homes. There are many beautiful earthy friendly...

Read More
If you are looking for kitchen remodeling services, please call our New Hampshire Remodeling Contractors at 603-582-0130 or complete our online request form.