New Hampshire Deck Building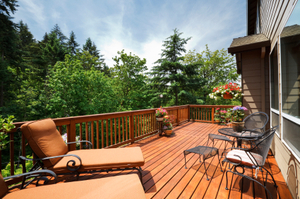 Once defined by a house with a picket fence, the standard "American Dream" has expanded to reflect the nation's growing passion for outdoor living spaces. Custom decks in New Hampshire are becoming an important asset to families because it provides the perfect place to enjoy "the good life" outdoors day or night. Today, New Hampshire homeowners are increasingly yearning for comfortable, inviting decks built to last, and for good reason: a well-planned custom deck can easily become the most alluring space around the house. At S.G. Construction our talented New Hampshire Remodeling Specialists are happy to assist you in creating the perfect outdoor living space for your home, so you can start enjoying life outdoors from the comfort of your own property.
Our New Hampshire deck builders will advise you on the deck design and material choices for your custom deck, as well as come out to your home to get a sense of what you want to do in context of what is possible for your property. Various factors go into the overall design and planning stages of deck building in New Hampshire. With our expertise and your ideas, we're sure to create a great custom deck that will suit your needs for years to come.
Don't have any specific ideas or don't know where to start with your deck building project? Not to worry. Our New Hampshire deck builders have years of experience in the industry and have constructed many decks throughout the state. We will help you find inspiration for your own custom deck so that you have something you'll enjoy and be proud of once we finish building it.
Building Porches & Custom Decks in New Hampshire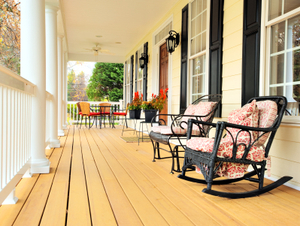 S.G. Construction also builds porches for homeowners throughout New Hampshire. Our porch construction projects have consisted of back porches, front porches, wrap-around porches and screened in porches. So whatever style of porch or deck you're interested in, you can rely on our team to build it.
When designing decks and porches, we aim to make it personal. We want the overall look of the project to be a reflection of the homeowner's personal tastes. The overall deck or porch design in most instances will also need to complement and accent the home, while also becoming a distinctive part of the homes overall look. This is why we spend a good bit of effort finalizing plans with you so we can be certain the building process will go according to your specifications. After all, you want a custom deck – and we're here to deliver!
While the design of the porch or deck is important, what material is used is equally as important. This is also generally the factor that will determine the overall cost of the project, too. Our professional New Hampshire deck building team will advise you about the materials available and the advantages of choosing one material over another. To learn more about our exterior remodeling services, contact S.G. Construction today to schedule a consultation.
If you are looking for New Hampshire deck building services, please call us at to speak to a Customer Service Representative or fill out our online request form.