New Hampshire Bathroom Remodeling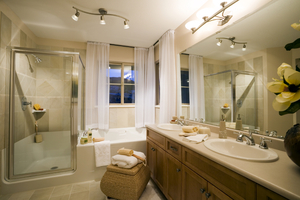 From complete bathroom design changes to simple renovations, the New Hampshire remodeling crew at S.G. Construction is happy to work with you to improve your home.  Bathroom remodeling in New Hampshire is a great way to add style, value and better function to your home. Remodeling a bathroom will also ensure a good return on your investment in the form of increasing your property's resale value. At S.G. Construction we have completed many bathroom remodels for our clients, ranging from simple cosmetic upgrades to major bathroom renovations and additions. From high-end showers and elegant baths to luxurious, spa-like features, we'll help you implement the perfect design and amenities for your new bathroom.
New Hampshire Bathroom Design
It's easy to take a bathroom to the next level with the help of the New Hampshire bathroom remodeling contractors at S.G. Construction. We specialize in implementing bathroom designs that are pleasing to the eyes and provide additional comfort for those using it. With a better bathroom, you'll find your daily routine that much easier and more enjoyable, thus improving both your home and your life.
Planning Your Bathroom Remodeling Project
A good way to get started with your New Hampshire bathroom renovation plans is pin down the exact things about your current bathroom that you want to change. Don't immediately assume you need to overhaul the entire design. You may be able to save a lot of money by starting with the problem areas first. Every New Hampshire bathroom remodeling project is different and therefore has different budget considerations. Material selection can be a large factor in determining your budget for your New Hampshire bathroom remodel. We recommend identifying what functions and layout you'd like to have first, then choose your materials and fixtures according to what you can afford. If you don't plan on changing the bathroom design much, you can focus more money on updating fixtures, cabinetry and etc. Keep in mind that while the bathroom layout can be changed to just about any configuration with the help of our New Hampshire bathroom designers and construction specialists, it is often more affordable to let the plumbing layout of your present bathroom define your bathroom renovation. Our specialists are happy to go over your options with you to ensure you get the most out of your investment.
At S.G. Construction we can help you with your bathroom remodeling project from start to completion, ensuring you have a great time while we're at it. Our New Hampshire remodeling contractors at S.G. Construction can take care of everything for you from bathroom flooring and tile work to lighting, bathroom cabinets and countertops, sinks, faucets, design and construction.
Recent Articles about Bathroom Remodeling in New Hampshire:
Hillsboro Bathroom Remodeling Tips and Ideas

Hillsboro bathroom remodeling will make an impact to the overall value of your home. No matter how small or big it will definitely bring about difference. There are several things you need to consider before doing any remodeling project. The easiest way is to do surface alterations. You won't have anything replaced at all. This...

Read More
If you are looking for a Bathroom Remodeling services, please call our New Hampshire Remodeling Contractors at 603-582-0130 or fill out our online request form.