New Hampshire Basement Remodeling & Finishing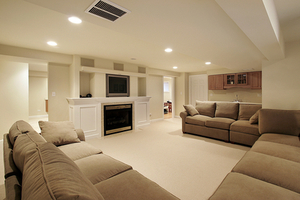 Basement Remodeling can be a great investment for your home in New Hampshire. At S.G. Construction, our team of New Hampshire remodeling contractors can help you design the perfect basement to meet your family's needs and space requirements. Our company has years of experience remodeling and finishing basements in New Hampshire. Whether you are looking to remodel your basement or completely finish a basement that has been left barren and empty, S.G. Construction understands your desire to finish this space and make it relevant to your home.
Our New Hampshire basement remodeling contractors can help you with whatever your basement design and construction needs may be. If your New Hampshire home has a partially finished or unfinished basement, remodeling is probably the most affordable way to add a large amount of additional living space to your home in the most cost effective manner. After all, just think of all that space in your basement you could be using! Most basements in New Hampshire are used for storage, but at S.G. Construction we can help you create a livable, attractive setting of rooms in your basement, while still addressing your storage needs in the allotted space.
Planning Your Basement Remodeling
In New Hampshire basement remodeling projects provide homeowners with year round enjoyment. There are a lot of things to consider when remodeling a basement, however, before you get started on such a home remodeling project. For example, is a bathroom needed in the basement? Will you have multiple bedrooms set up down there, or one large open space? Would you like additional natural light added to the basement? And so on. Our New Hampshire basement finishing and remodeling specialists would be happy to visit with you and go over such options as it pertains to your home and specifications.
For basement remodeling ideas and more information on the basement finishing process provided by S.G. Construction, contact our qualified and experienced New Hampshire remodeling contractors today. We look forward to helping fulfill your goals and providing you with quality remodeling services!
Recent Articles About Basement Remodeling in New Hampshire:
Great Milford Basement Remodeling Tips

Milford basement remodeling ideas can be found in abundance by conducting a simple search on the Internet. It certainly makes sense to convert your basement into some usable living space. Why let any space in your home go to waste? There can be problems with basements, however, so you will need to conduct a thorough...

Read More
If you are looking for a New Hampshire Basement Remodeling contractor, please call us at 603-582-0130 to speak to a Customer Service Representative or fill out our online request form.