Do You Need New Kitchen Cabinets in your New Hampshire Home?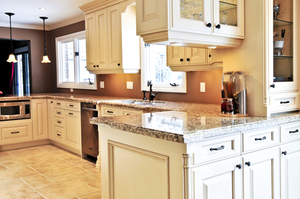 If you want New Hampshire kitchen cabinets in your home, then there is one remodeling company that does it all and that is S.G. Construction. If your kitchen is the focal point in your home, then you should update your cabinets. Call to make arrangements with us for an estimate.
Updated kitchen cabinets are great for your kitchen area because they can spruce up the look. If your kitchen is currently looking like it's been through a war & back, then let us start your remodel by installing new cabinets.
There are so many great ideas when it comes to kitchen cabinets. You'll have a hard time figuring out exactly what style to go for. How about the elegant look? If you love the look of classic molding on your cabinetry, then this is the type that was designed for you in mind.
Get your kitchen cabinets installed by the New Hampshire Remodeling Contractors at S.G. Construction today and you'll see why you chose us. Our cabinets are built to last and they look good to. So, don't wait another day. Contact the experts today and we'll show you just how committed to excellence we really are.
If you're more of a city person, then we have the kitchen cabinets for you. The urban updated version of these cabinets are dark stained wood with a sleek glass display. The glass display will help showcase your dinnerware.
The vintage look is coming back around again. We've seen this in clothing, automobiles and now in kitchens. If you liked the look of your grandmother's kitchen, then why not replicate the look? Vintage cabinets are simple, but very complex in looks. If you like this style of cabinetry for your kitchen, then call the remodeling pros who can deliver them.
S.G. Construction wants to decorate your kitchen like one in Europe. If the Italian look is something that you strive for, then get the look of the Old Country back with mixed-wood cabinetry. Yellows and dark woods will make your Italian kitchen all the more complete.
There is always the Modern Scandinavian Style of kitchen cabinetry. If you want to be immersed in a series of wood cabinets that stem from ceiling to floor, then you're going to love this type. Let us know if these cabinets will work in your kitchen.
You can always go with a plain style of cabinetry. Your kitchen does not need to take on any particular look. That's up to you and how much you can afford when it comes to kitchen cabinetry. W have many stains to pick from.
When you have New Hampshire kitchen cabinets installed in your home you'll notice how great the quality is and how pretty they can make your kitchen look.
If you are looking for a New Hampshire kitchen cabinet contractor then please call 603-582-0130 or complete our online request form.