Greenfield Home Remodeling & Custom Deck Building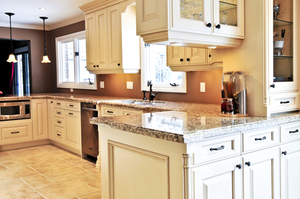 Are you looking for a Greenfield remodeling contractor or deck builder to help you add some style to your home in New Hampshire? Contact the experts at S.G. Construction! We have been providing home remodeling services in Greenfield, NH for many years, and we'd love to help you with your interior and exterior remodeling needs. From deck building and garage construction to kitchen and bathroom remodeling, our team of remodeling contractors in Greenfield, NH 03047 know how to get the job done correctly, efficiently, and with your satisfaction as our ultimate goal.
Greenfield Bathroom & Kitchen Remodeling
When it comes to remodeling the bathroom or kitchen of a home, things can get pretty messy, especially if you don't have a reliable Greenfield kitchen remodeling or bathroom renovation expert on your team. At S.G. Construction we are delighted to assist you with any bathroom or kitchen remodeling project you have planned. It's much better – not to mention dramatically less frustrating – to get help from a professional Greenfield kitchen and bathroom remodeling specialist like S.G. Construction at the beginning of your project, rather than having to call in a crew to fix all the mistakes made due to DIY tactics. Ensure your kitchen remodel or bathroom redesign is completed with the least hassle – call [cmopany_name] to be your Greenfield remodeling contractor today!
Greenfield Custom Decks
Greenfield home remodeling are not limited to what you can change about the interior of your home – planning an exterior remodeling project is just as beneficial, especially when it comes to boosting property value through enhanced curb appeal. What better way to enjoy the outdoors and improve the overall look of your home than with custom deck building in Greenfield, NH from [cmopany_name]?
The custom decks in Greenfield, NH we have built are wonderful places to entertain and relax, perfect for family gatherings, BBQ parties and more. To ensure that all of these will be accommodated in your backyard deck, we'll help you pick a design that will best match your home's structure and what you actually want to use your new custom deck for. Give our Greenfield deck builders a call today to learn more.
Greenfield Garage Construction
For many Greenfield, NH homeowners, today's garages are necessarily multi-functional. Not only are garages used for housing cars and general storage, but many homeowners use them as workshops or even home offices  – all in the same place. Because many Greenfield garages are attached to the home they can benefit from the same comfort as a home: phone wires, heating and cooling and plumbing. If you are interested in enhancing the quality of your home garage, call the Greenfield garage building team at S.G. Construction to learn more about our garage construction and remodeling services.
S.G. Construction appreciates your feedback. Please give us more time to collect your reviews and they will be displayed below.
---
Recent articles about Home Remodeling in Greenfield, NH:
Concord Kitchen Remodeling: Common Kitchen Design Issues

You have probably heard of disasters happening during a remodeling project, letting alone a foremost renovation like that of a kitchen. The problems tend to be lighter and easy to handle when a kitchen is not overhauled and just being updated. Home owners who are thinking about investing in Concord kitchen remodeling and entire design...

Read More
3 Ways To Improve Your Home's Exterior With New Siding

The exterior of your home is a very important aspect to its overall function and appearance. Not only is it the first thing people will notice about your home, but it also provides your home with its first line of protection against the heat, cold, and weather. When you old siding begins to age, it...

Read More
If you are looking for a reliable Greenfield remodeling contractor or deck builder please call 603-582-0130 or complete our online request form.